BRICA Fold N' Go
Ease of Use

Portability

Comfort

Age Range

Safety
Pros:
The bassinets includes a machine washable sheet. It is affordable, high quality, strong and reliable. It is very easy to use. Can be folded away when not needed.
Cons:
The bassinet can not be used over 15lb. The side rails are not padded, so is not suitable for a moving baby.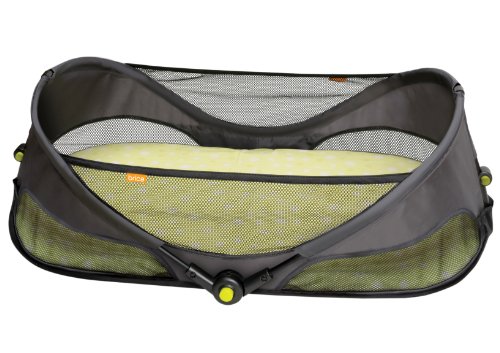 A super quick, lightweight, easy and affordable bassinet. What more could we want, right? The Brica Fold N' Go Travel Bassinet delivers in all these areas and is one of the best travel bassinets I have reviewed. It is just so easy and portable that it shines above many other bassinets.
The Fold N' Go Travel Bassinet is best for…
Those parents looking for a super lightweight and easy to use bassinet to take with you on the go. The Brica Fold N' Go travel bassinet requires hardly any preparation to unfold it and click it into place. When done, it can be folded up and packed away. If you want to keep things quick and simple, this is the bassinet for you.
Ease of use: 5/5
The Brica Fold N' Go easily earns top marks for ease of use. It is so quick and simple to both unpack and pack back up, with a simple click into place at the safety point. Once folded, a carrying handle can be found on the top. It really could not be much more simple for a bassinet. Also, the sheet is removable from the mattress and machine washable making clean up a breeze.
See the Brica Fold N' Go for yourself in the video below:
Portability: 5/5
Again, the Brica travel bassinet receives full marks, this time for portability. Even by looking at Brica Fold N' Go travel bassinet reviews, you will see people remarking about its portability. When folded, a handle can be found on the top of the bassinet for easy carrying and portability. A pouch is not required.
It is very lightweight at around only two and half pounds, so you hardly notice it in hand. It can fit basically anywhere and taking it on flights is easy.
Comfort: 4/5
The mesh walls on the side of the bassinet mean that your baby will not get too hot as air is breathed through the bassinet. The mattress is firm enough to protect but still comfortable, and baby will sleep easily. The side rails of the bassinet are not padded, so they can be uncomfortable if rubbed against. However, this is not much of a concern for babies under 3 months.
Age range: 3/5
The bassinet does not have a huge age range, being only suitable for babies up to 3 months or 15lb. This should not come as too much of a surprise for most people, as a bassinet by nature is generally only suitable for younger babies.
Safety: 4/5
The Brica Fold N' Go bassinet is extremely secure. The bassinet features a 4 point safety locking system and a strong body. The mattress is also firm. However, as with other bassinets, risk of suffocation is still present, hence why this bassinet is not recommended to be used by babies that can push with their hands and knees.
Other features and specifications:
The color of the bassinet is gender neutral, and the bassinet meets the ASTM Bassinet Safety Standards.
Cons
The bassinet is only suitable for younger babies. There is not really any versatility to it but it delivers what it is meant to. Although it is great because of its portability, it would have been great to see a slightly bigger bassinet, making it suitable for a larger age range.
Summary: 4.5/5
Overall, the Brica Fold N' Go represents amazing value. It delivers on practically every essential that is needed when looking for a suitable bassinet and allows travel with a young baby to be as easy as it can be.

If you would like a travel crib with a larger age range, check out our guide to buying a travel crib.
Disclaimer: Travel Crib Reviews is a participant in the Amazon Services LLC Associates Program, an affiliate advertising program designed to provide a means for sites to earn advertising fees by advertising and linking to amazon.com, amazon.co.uk, amazon.ca. Amazon and the Amazon logo are trademarks of Amazon.com, Inc. or its affiliates. We may receive a small commission if you click on one of our links and make a purchase. Thank you for supporting Travel Crib Reviews and helping me make it the best site possible!