4 Reasons Why a Travel Crib is a Great Investment!
THIS POST MAY CONTAIN COMPENSATED LINKS. READ DISCLAIMER FOR MORE INFO.
We love our travel cribs and we use them a lot. In a way, I think it is a shame that they have the name "travel crib" as then it is easy to think you only need one if you travel a lot. I also only associate the word crib with babies but travel cribs are good for older kids as well. I find they are very useful for every day use as well and are a better purchase than the usual portable crib. Here a 4 reasons why a travel crib is a great investment!
1. They make a great portable crib alternative
As young babies, I found my travel cribs invaluable for use inside our home. They were so easy to set up anywhere and move from room to room, that I could easily have my baby sleeping wherever I was. Living in a double storey house, I found this especially useful as often my babies would fall asleep on me and moving them to another level of the house would wake them up.  Popping them in the nearby travel crib worked very very well.
Travel cribs are so easy to transport, that it is no problem to move them from house to house. It was great for visiting the grandparents and mean that my children had a bed to nap in that they were already familiar with when we were out and about making it easier for everyone.
2. They make a great play area
Many travel cribs are not only appropriate for sleeping but are designed to make a great play area. The Lotus Travel Crib is a great example of this. They are designed to also be a safe and fun play area for your child. I particularly like the zip down area on the side for your child to be able to go in and out as they like – or you can just zip this up if you don't like it.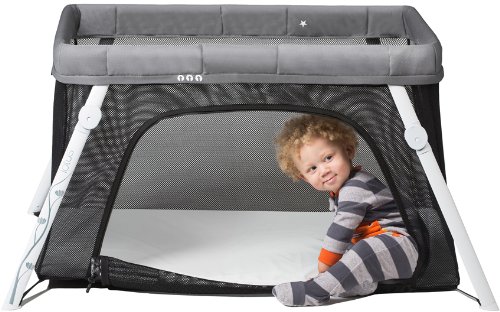 Lotus Travel Crib – makes for a great play area
3. They make a great toy for older kids
My kids as toddlers and preschoolers loved playing with the KidCo Peapod. They would call it their tent and pretend they were camping. It was fabulous for imaginative play.
KidCo Peapod – makes a great tent!
4. They are great for travel!
Naturally, this had to make the list. Travel cribs are great for travel. They are made to be compact and convenient for families on the go and they are invaluable when you are traveling, particularly for people traveling via planes that need to keep their luggage to a minimum.
For these reasons, I think a travel crib is a great investment from the birth of your baby, particularly if you are considering buying a portable crib or a play pen anyway.
Convinced? Read my travel crib buying guide.
Disclaimer: Travel Crib Reviews is a participant in the Amazon Services LLC Associates Program, an affiliate advertising program designed to provide a means for sites to earn advertising fees by advertising and linking to amazon.com, amazon.co.uk, amazon.ca. Amazon and the Amazon logo are trademarks of Amazon.com, Inc. or its affiliates. We may receive a small commission if you click on one of our links and make a purchase. Thank you for supporting Travel Crib Reviews and helping me make it the best site possible!